Browsing Category: "Shopping"
I and Mj agreed to buy her something to wear on their acquaintance party. Their theme is OOTD and when we roamed around SM last Saturday she was able to check the jumpsuit. It doesn't cost much, so I guess that's the one were going to buy.
Tomorrow after I'm done getting the NBI and the medical certificate, we will be seeing afterward to buy her the jumpsuit. Oh I also need to pay my SSS and Pag Ibig Contribution. I hope everything will be done right away since I will have PPHO and site tour tomorrow for a new job.
My eldest daughter is  required to wear close black shoes, so even though they do not start to wear one I decided to buy her a pair in advance. We supposed to shop in SM but we decided to buy her a pair of close shoes in Payless. Good thing we went there because we found out that they are on sale, if you are going to buy one pair. The 2nd pair will be half of the price. How I wish to have more than enough of my budget to buy another pair but the money I brought was just enough for one pair, so even though the other pair will be half of the price I still could not afford it? On the other hand this pair is so affordable; it didn't even reach to P 1,000. 00 I guess this is only almost P 700. 00 so it's not bad at all right? And most of all Mj like it very much, it is simple, within the requirement and it is comfortable, at least for her. What else can she asked for? The only thing that she needs for now is her uniform because it still didn't fit her.
Mj will have one week orientation, they are not required to wear a school uniform, it's a good news to everyone but for her it's very bad because she only have 2 pairs of jeans. She asked me if I can buy at least 1 pair for her, during my pay, I took her to the mall to buy jeans.  We were looking for something affordable, this is what I like about her because she doesn't look for any expensive stuffs. She would understand especially when I am in a tight budget. We were roaming around to the budget section to check some stuffs but even the mall has a wide sale, the price is just too high that if we will force to buy it, I can only buy one pair but my daughter wanted to have 3 so she roam more and she found a pair of jean that was cost only like P 300.00, she fit it and she likes it she said it's very comfortable. We looked for one more pair; the one that she picked has the same price although it's with a different brand. One more pair with the same price and were good to go plus I can buy 3 pairs of house shorts for Faith.
It was last April that I also bought this pair of jeans; some of the jeans I had are busted already. They were stretched out or had holes. I bought this Indigo jean when Gaisano Mall where Mariel is currently working had sale. This Indigo original price was more than P 500. 00 but when I bought it was only P 300. 00 and some peso. It is a stretchable jean that when I wear it, it will take a lot of time and effort to finally fit it. On the other hand, I am now starting going to the gym, my aim is to be healthy but I hope it would also show that I am in my figure. Yeah I need to lose weight.
The waist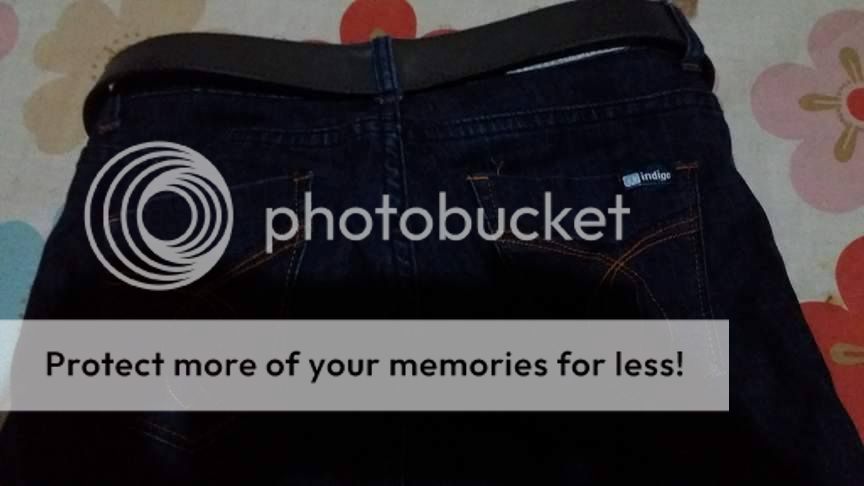 The back
The whole front