Browsing Category: "Shoes"
It took only one hour to feel pain when you wear uncomfortable shoes. High heels can boost your confident as you can feel leaner and slimmer but they are the most unhealthy shoes, because high heel can left you with foot problems but it is not only high heels are the culprit, flip flops can increase your stress with your foot. These uncomfortable shoes can get you blisters and muscular pains that if you continue to wear those uncomfortable shoes it will lead to a serious problem.
Find out which shoes you can wear for how long; let's say if you would like to wear high heels then check how long should you wear them before it makes you feel uncomfortable. Plan ahead!
My eldest daughter is  required to wear close black shoes, so even though they do not start to wear one I decided to buy her a pair in advance. We supposed to shop in SM but we decided to buy her a pair of close shoes in Payless. Good thing we went there because we found out that they are on sale, if you are going to buy one pair. The 2nd pair will be half of the price. How I wish to have more than enough of my budget to buy another pair but the money I brought was just enough for one pair, so even though the other pair will be half of the price I still could not afford it? On the other hand this pair is so affordable; it didn't even reach to P 1,000. 00 I guess this is only almost P 700. 00 so it's not bad at all right? And most of all Mj like it very much, it is simple, within the requirement and it is comfortable, at least for her. What else can she asked for? The only thing that she needs for now is her uniform because it still didn't fit her.
Mj's wish is to have a nice fancy rubber shoes, she asked me this pair of shoes since last year but it is just recently that I made a promise that I will buy one pair for her. I am kind'a committed with the promise that I made and for me I can't turn back, I can't just take it away because I know for sure she will get disappointed. My eldest daughter seldom asks of something she really likes and it has been a while that she's been eyeing this pair of shoes. So it was last week of last month, on the day that I receive my payout at work, I fetched her at school so we can buy that pair of rubber shoes, it was VANS and the price is pretty expensive. I almost got my jaw dropped when I checked the price, for me it is not fun at all but it makes me happy that I was able to give her the thing she really wanted. I love my kids and as long as I live and I can afford, I would give them everything in the world that when I got home I realized I am already out of budget, so much for a MOM right? On the other hand, it was already my gift for her since she did a good job on her studies and most of all she followed my rules even though it was hard for her that she have to let "that" feelings go.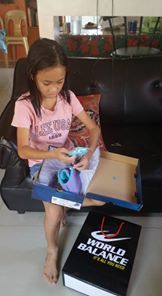 Mj was the first one who opened a gift last Christmas; Faith was the next one in the morning. She is so amazed with the pair of rubber shoes I gave, simply because it lit up when I push a button inside the shoes. The only problem is the size, it doesn't have allowance at all and I can't exchange it because I lost the official receipt. Too bad, anyway, I'll just let her use it every now and then so her feet will get used to it.
When she woke up yesterday morning, I told her to take a bath right away after breakfast because I have a surprise for her. She did follow my instructions right away, She don't let the chance slipped away before she forgot everything, she knows what she will get but she doesn't know what was the style of the shoes I will give her.
Definitely when she saw the pair of shoes, since it lit up she felt so delighted. Thank GOD that my daughter likes it.
I also love the color of the shoes, it fits her tiny feet. Faith, took a pose for me after I told her to try it on.