Browsing Category: "Jeans"
Mj will have one week orientation, they are not required to wear a school uniform, it's a good news to everyone but for her it's very bad because she only have 2 pairs of jeans. She asked me if I can buy at least 1 pair for her, during my pay, I took her to the mall to buy jeans.  We were looking for something affordable, this is what I like about her because she doesn't look for any expensive stuffs. She would understand especially when I am in a tight budget. We were roaming around to the budget section to check some stuffs but even the mall has a wide sale, the price is just too high that if we will force to buy it, I can only buy one pair but my daughter wanted to have 3 so she roam more and she found a pair of jean that was cost only like P 300.00, she fit it and she likes it she said it's very comfortable. We looked for one more pair; the one that she picked has the same price although it's with a different brand. One more pair with the same price and were good to go plus I can buy 3 pairs of house shorts for Faith.
It was last April that I also bought this pair of jeans; some of the jeans I had are busted already. They were stretched out or had holes. I bought this Indigo jean when Gaisano Mall where Mariel is currently working had sale. This Indigo original price was more than P 500. 00 but when I bought it was only P 300. 00 and some peso. It is a stretchable jean that when I wear it, it will take a lot of time and effort to finally fit it. On the other hand, I am now starting going to the gym, my aim is to be healthy but I hope it would also show that I am in my figure. Yeah I need to lose weight.
The waist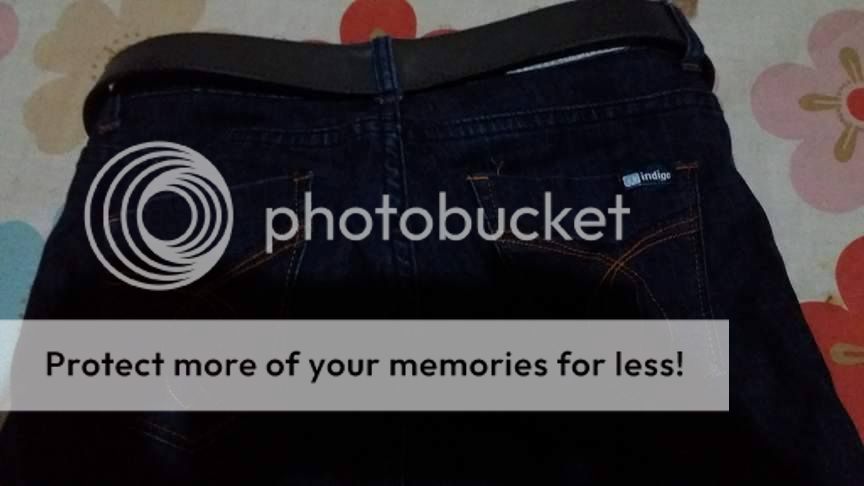 The back
The whole front
Jeans are as American as apple pie. They have been rugged work wear that stands up to rough and tumble jobs as the choice of American workers from rounding up cattle to those welding car frames for well over 100 years.
But you don't have to be employed in a rugged job to appreciate the comfort and long wear of a pair of well-constructed, quality jeans. Jeans are acceptable to be worn almost anywhere you choose to go. Built tough doesn't mean a lack of style. Tough denim is crafted into many styles of jeans to fit any activity and reflect many different personalities. Men women and children work, play and relax in jeans from companies that got their start in America, such as dickies.com. Dickies has taken the standard jeans of the late 1800's and made them into a modern, chic standard. Denim blue has morphed into several other colors, such as black and even white. High waist, low waist, boot cut and skinny are only a few varieties available. Pre-washed, stone-washed and even stressed material adds choices for individual tastes. No wardrobe is complete without at least one pair of a fashion statement that represents America across the world.
Wearing a favorite pair of jeans is like spending time with an old friend- the fit is just right and makes for a perfect day.