Browsing Category: "Celebration"
Right after I celebrated my birthday in DMMA, a college school here in the city during Mj's competition. My friend invited me for a dinner, Cheryl treat me that night as her birthday present for me. Such a sweet friend I have here, it has been like 6 years that we shared our laugh together and we are still counting for more years to come. On the other hand, I am not writing this post to talk about our friendship because few paragraphs are not enough to describe about our friendship and we both went through and all the memories together but here are some snapshots on my birthday at Apo View Hotel.
Here are the both of us during dinner, just don't mind my tummy I was already too full that I could not even get the stomach in no matter how I tried. LOL
I am just so lucky to have a friend like her because without her, I could not have a grand celebration like this. LOL, look at those foods in the table they were so sumptuous and I could eat it all if only I have enough huge space in my tummy, I would gladly finish all those foods.
And of course the waiter who had done his best to accommodate us. And yeah they were the one who informed the restaurant management that someone is celebrating her birthday in the restaurant so they sang with glee and greeted me a warm birthday greetings.
The hotel's gift for me is a wine, I could have chosen the cake if I like it but since we were already full, a wine is not bad at all to celebrate my birthday. So celebrate my birthday with glee, cheers!
I thought I will celebrate my birthday with a heavy heart because of some misunderstanding with my husband, this is the first time that my husband was not able to greet me on my birthday because my phone was off. But it went grand because of Cheryl, I thank you Cheryl for this little getaway you had for me. I am always counting that this friendship will last until the very end but this for sure I will never get drunk and sing again, never! LOL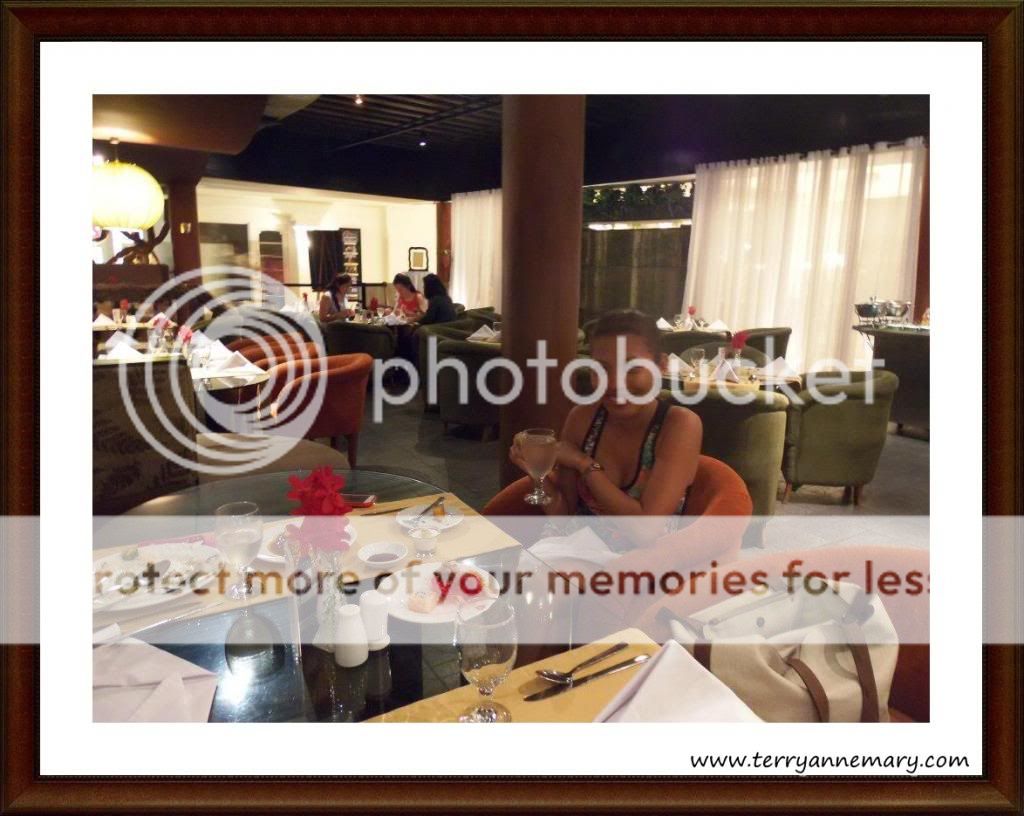 It was the competition of Mj when I celebrated my birthday, I asked my friend to hire her friend who has the catering business to take good care of our lunch at that day. Good thing just before the competition was finished for that day, the foods came. So we gathered immediately to share the foods that I have for my team.
We had a joke that whoever could get the first place; they will have this boat as an award. LOL, yeah while the competition was on going, these two boats were there the whole time. I know this is not safe for the swimmers especially for the lane near it but what can we do, government hosted the competition and we don't pay any entree fee.
And this picture below? I jump for joy because it was my birthday, yahooo!
When I chatted my husband last July 4 night time for me here, he mentioned he will go out to watch a parade nearby, I also suggested then to take some pictures of the parade so I could also share it to our daughters here. But since we got too busy here and my eldest daughter is sick, I was not able to share it to them. My husband also took a video of the parade and yesterday after F arrived home from school, I let her watched it. She was so amazed, she said there's a fire truck and she asked if there was a fire because the siren was too loud. I told her that it's their way of celebrating the 4th of July.
I just went to Pinnacle Hotel; actually I did not plan to go there because I have to go to SSS to pay my contributions, but darn I was late again so instead of wasting my time going there, I dropped by at the Pinnacle Hotel instead.
The hotel was huge, it is even bigger than of Apo View Hotel and yet their hotel room's rate is only 2,500 for the standard and for the twin it is 2,800.00. Actually, there are in promo right now, so I guess my kids and I will stay there for 2 days on my wedding anniversary. I guess my husband could not again be with us; it has been 2 years since we did not see each other. I know we can chat everyday and we can talk over the phone twice in a day, but for me it is not enough. We still need him here; I still need a husband who is always around me. Oh well, for now I can't do anything to that but to wait. I wonder how long should I wait.
I am still contemplating of where could I celebrate it, of course I'll be having some friends with me on that day. Have a nice dinner perhaps, I have to budget the meal yet though.