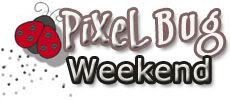 The swimming class where Mj attended to, will always have sprinting every Saturday. It's a test for their speed if what stroke are they fast and their forte. Mj is doing well with her freestyle and butterfly stroke, she had the shortest time and fastest in speed in 100meter for freestyle and butterfly as well. Her coach even told me to let Mj do the training everyday but I can't think we can do that, since we're living too far away from the swimming venue and she have Kumon to attain to every Tuesday and Wednesday.
Here's the picture of their sprinting, the coach instructed to inline for their butterfly:
For her butterfly stroke, this was the video I took for her during the training. She still need to pull level to her chest though, I guess this was the second round and she was so tired with this stroke anymore so she was not able to pull her body up. Well she still done a good job for me though. Way to go Mj!