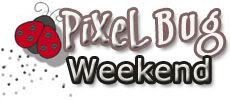 First thing in the morning yesterday, I told my eldest daughter to help me do the house chores so I could take a nap immediately because we were going out for dinner. My husband sent us money for us to celebrate the Mothers Day at the restaurant. My niece came over right after the GIMIK series ended, she never thought we would go out and eats dinner outside, good thing she has one pair of pants left at my closet.
We were amazed because the restaurant has a Wi-Fi so I and my niece were able to update and write some stuff in our wall in Facebook. And right after I ordered some foods, we got busy and took some pictures of us.
Their service was so fast, we didn't wait for 30 minutes long, which was good because a moment by, customers were rushing in already looking for tables and the waiters were running around, walking back and forth to attain them.
Come and join the fun at Pixel Bug Weekend!