PB Weekend : The Thoughts of Easter Sunday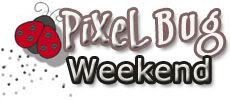 It was indeed a long day for us here yesterday but it's all worth it, yes I was so tired and sore but when you know that you filled up your day with joy because of your kids and the people around you, plus you were able to hear the word of GOD, sure the day went out just fine.
I was not able to bring my camera, silly me, I forgot it when we were about to go, we were in a hurry to get out of the house because I was already starving. I and my sister agreed to have a breakfast in their house. After breakfast we all went to church. If I could have been brought the camera with me, I was able to take a picture of those kids wearing bunny suits in the mall but it was too late, I just forgot all about it.
Well, anyway, what matter is I and the kids were able to celebrate the Easter with our Almighty One, no eggs were able to hunt but our hearts were filled with so many thoughts about him. Belated Happy Easter to everyone!